Rebuilding confidence
Rebuilding confidence amongst NSW multi-unit residential purchasers has never seemed more urgent. It will require a mix of new accountabilities, capabilities and culture.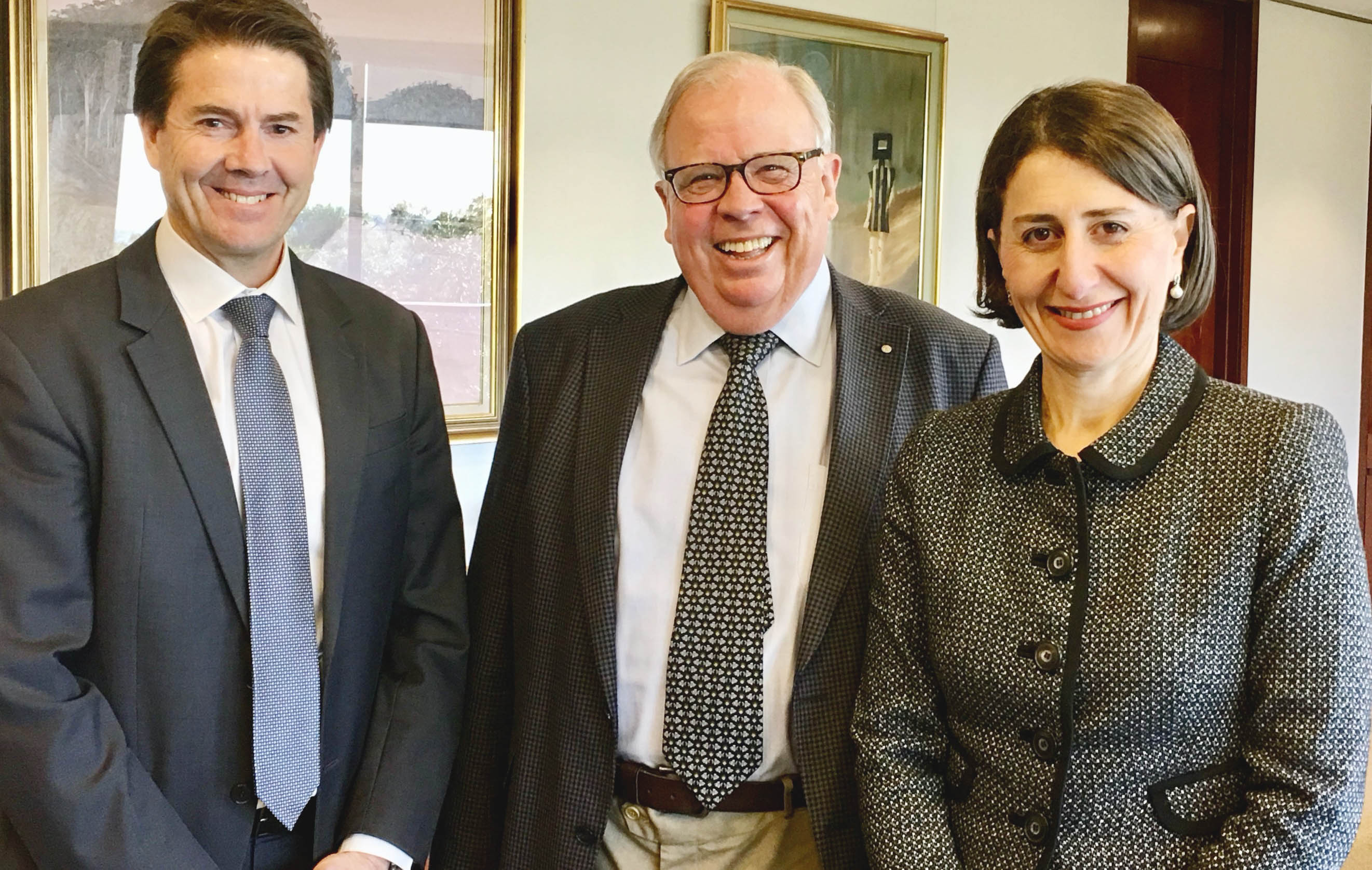 Our strategy
My appointment as NSW Building Commissioner just eight-months ago has now arrived firmly at the implementation phase.
The Design and Building Practitioner's Bill, along with strong supporting compliance and enforcement powers, will soon return to the parliament. The NSW Cabinet has signed off on our workplan.
There has been a huge public and industry engagement strategy by both the Minister for Better Regulation and our offices, to create an almost universal consensus for the reforms that will be necessary to rebuild consumer confidence in the state's construction sector.
Kevin Anderson is the NSW Minister for Better Regulation and Innovation. A strategy for restoring confidence in the state's residential construction sector was outlined in a Building Strong Foundations discussion paper in June 2019.
A lot has been achieved since.
The strategy will be known as Construct NSW. Its urgency embraces making the industry's customers confident to start purchasing new apartments and contributing to the economic stimulus and job mobilisation challenges the state now faces as it recovers from COVID-19.
Building strong foundations
There is top-down commitment for NSW to lead in rebuilding confidence.
Most in the industry will understand the need to underpin any strategy with strong foundations. For others, it's clear that building strong foundations may be a novel change of practice. This is all about to change.
There are three steps in building strong foundations:
Removing unsuitable material in the underlying foundation conditions.
Remediating other material that may be suitable for incorporation.
Making sure everything meets the required standards for building.
These three steps provide a useful strategic roadmap to rebuild resilient construction practices, new competencies and proof testing. This testing must underpin making more trustworthy buildings.
The construction industry and its customers are each entitled to deal with more trustworthy players in an industry that represents $75 billion per annum of NSW's economic activity, and over 360,000 of the state's workforce.
Tomorrow's industry must be attractive to its players, to build a sustainable future and attract new players.
This task has an industrial scale, and it must have very clear and measurable short, medium and longer-term goals. Short spans from 2020 to 2022, medium covers 2023 to 2025, and longer-term 2030.
Working groups
This week, the first of our working groups commence.
The Construct NSW strategy involves six-pillars of interrelated initiatives to reform the industry.
There will be seven working groups, including a steering committee and six pillar-focused working groups. A wide representation of community, industry, regulators and educators will be involved.
Our working group participants will play a vital role. They'll:
bring wide sector viewpoints
be exposed to the challenges that have informed each of the six pillars
bring considered contributions that may help inform the detail of what next, when and to what effect.
look across all of the six pillar initiatives to envisage how they will they will all add to the whole.
New graduates
We're pleased to have recently appointed seven undergraduates and recent graduates to join our working groups.
They will advocate for what they feel a confident and attractive construction industry in NSW will need to look like beyond 2023.
They'll be the voice of not only their peers, but of future constructors, and they should see that a reformed construction landscape in NSW hold many attractive, rewarding prospects.
Our priority
Our immediate priority will be establishing the enabling resources and systems to support implementing the new reform legislation. The centrepiece of the short-term goal will be focusing on the most unsuitable or risky players and providing unequivocal guidance to those on the edge of the remediations, which will be a necessary part of the future.
There's little value in further debating the root causes of how the industry got to this crisis, which has become stark over the last 10 or more years.
The Design and Building Practitioner's Bill provides a clear description of what will be required. 
There's a need for declared designs properly prepared by accredited designers at the start of construction, supported by building contracts, which require declarations by builders that they have constructed projects in accordance with declared designs and the building codes.
These are the bookends that will be able to progressively assure customers that the buildings they buy into are not lemons and are absent the material defects of the past.
Our enforcement powers
The Design and Building Practitioner Bill will be accompanied by complimentary compliance and enforcement powers that will provide our regulatory team with substantial new capabilities to make short-term impact.
These powers will target players who have past form, or who potentially have a combination of less predictable capabilities when benchmarked with the standard player combinations.
Form will include behaviours such as prior insolvency, unsatisfactory supply chain payment records, poor quality occupation certifications and poor buildings. Simply put, risky project credentials.
We'll call this cohort of players out as being the unknown or unacceptable foundation material. Their first option will be remediation, the alternative will be progressive removal from the landscape.
There is universal agreement that the riskiest and, in the past, the least accountable players have done the industry most harm to its reputation.
From the day the new legislation passes the NSW parliament, it'll be game on to tackle these players.
This message is already in wide circulation, as evidenced by approaches to our office by some developers and certifiers seeking to change course.
New capabilities and culture
Strong foundations are not built on sand. They need to be proven, stress tested and rock like. There's no room for 'she'll be right' or 'explaining unacceptable standards as, not being as bad as those over there'.
A one-time reset from minimums to best practice must unfold. The focus must shift to meeting public expectations that 'bricks and mortar' are as reliable as they once were.
The built world is an essential element that underpins the nation's personal and public wealth. Imagine if Australia's currency was as unpredictable.
Recent experiences in the riskiest residential apartments could meet a lemon test. The industry could well answer the questions normally applied to other consumer goods.
Does the building depart (in one or more significant ways) from its description or sample or demonstration model?
Is the building substantially unfit for a purpose, and the developer, designer or contractor of the building can't remedy it within a reasonable time?
Is the building unfit for a disclosed purpose, which was made known to the consumer or anyone engaged in negotiations, and the provider of the building or service can't remedy it within a reasonable time?
Is the building not of acceptable quality because it's unsafe?
Would a reasonable consumer, who was fully aware of the nature and extent of the failure, not have purchased the building?
Of course, the challenge for residential apartments is that once their title passes to a purchaser, the application of normal consumer remedies becomes impractical and the consequences can be dire.
Our focus
Our additional powers will immediately focus on stress testing the most important purchaser transaction. This is the point when a building occupation certificate is declared, and a purchaser is required to transition from depositor to owner.
It's this transaction that will come in for the most immediate attention.
Some think this focus may unreasonably be directed at certifiers. For those with a lousy certification track record, this will be so.
However, the main target will be those potentially riskier developers and constructors who have cut corners in proper design preparation and construction procurement. When this happens, no-one wins.
It's likely that about 10 per cent of the riskiest player combinations of developer, constructor and certifier will attract the earliest attention.
This will be a visible experience, where consumers and all the construction eco-system see that time is up for bad play. There will be consequences. There will be no-surprises.
Developments that come in for immediate attention will be given ample time to address issues of compliance and assurance.
Our team will offer guidance. But they'll not be there to moderate compromise. They'll be there to observe the integrity of declaring buildings fit for ownership by purchasers.
While poor practice will be confronted, best practice will enjoy more autonomy.
Building a robust industry
Each of the Construct NSW strategic pillars are targeted at restoring long-term robustness in the state's building economy, underpinned by new technologies, new skills, modern practices and a customer-facing culture.
A major transformation initiative has already commenced to build new operational capabilities and a more proactive intervention culture in the state's building regulator.
There's a solid platform of subject matter expertise and desire to drive better outcomes. In the past, limitations on integrated efforts across the business and amongst other agencies have constrained the potential now envisaged.
Once a new setting where stronger foundations become expected, the potential of the working groups to help shape our industry's future presents. This is a unique opportunity.
The brand, Construct NSW, will be synonymous with this endeavour. With all this goes the responsibility of measurable achievement.
In the short term
Some measures will take longer to express, others must be short term.
Short-term measures will involve each working group defining the key metrics that would exhibit the progress the Construct NSW strategy has in mind.
These will feed into early dashboards that will be on our web site. They will track field inspections, interventions and corrections. They will track new system capabilities that are now, or will soon be, possible from the e-planning, government licensing, e-strata and new priority learning delivery.
Interventions will insist on quality design documentation being present on project work sites, and the use and compliance with those designs and Australian Standards.
Site construction culture becomes one where those in charge are confronted with demonstrating that they are fit and proper persons to be in charge of the work that is being performed, and overseeing a high level of safety standards for those working on site.
There's a well-recognised correlation between poor on-site safety and quality. Both spring from a common mindset to do it right and work safely.
In the long term
Of course, there's much more to rebuilding long-term confidence in the NSW construction industry.
There are many fingers in the pie. The tide must lift across the board.
Professional associations will be challenged to raise their standards to meet the requirements of the Professional Standards Council; and vocational and higher education providers will need to develop new priority teaching content and agile delivery methods that support adaptive life-long career pathways.
A new future-fit industry regulator model will need to be developed and implemented by 2022.
Manufacturers and suppliers, who have in the past attested to 'job done' when their certified products are dispatched to building sites, will need to take a longer view of installed compliance. 
And constructors, who are still exhibiting wasteful industrial revolution-like fabrication methods on-site 20-years into the 21st century, will need to rethink their business models.
Business as usual will need to be adjusted across the whole of the construction eco- system.