Greening our city
Increase the tree canopy and green cover across Greater Sydney by planting 1 million trees by 2022.
Why is this important?
Trees play an important role in creating great places for our communities, enhancing outdoor recreation and exercise opportunities, and making the places we live and work greener, cooler, and more connected. Green canopy enhances the amenity of local parks and streets and is crucial in providing vital shade that reduces ambient temperatures and mitigates the urban heat island effect.

Trees improve local character and enhance property values. They extend habitat, increasing the biodiversity of cities serving as a home for animals and birds. Air quality is improved by removing fine particles from the air and trees mitigate the impact of climate change, acting as a storehouse for carbon dioxide.
How are we tracking?
Our target is to have 1 million trees planted and registered with the Department of Planning and Environment by 2022.

The 1 millionth tree was planted on 5 November 2022.
 
Additional trees will continue to be planted and a regularly updated view of planting is provided via our counter.
This Premier's Priority is part of our longer-term commitment to bring average canopy coverage to 40% across Greater Sydney.
 
Download the Greening our city data information sheet (PDF 225.23KB)
What are we doing?
We are aiming to lessen the impact of the urban heat island effect and increase the city's resilience to a changing climate. We are focused on tree planting, green infrastructure, and policy change to ensure that the planning system supports trees and green cover well into the future. 

All of our initiatives have been designed with the aim of enhancing the urban canopy of Greater Sydney and creating more attractive, liveable spaces.  

These are some of the initiatives that are already making a difference: 
Free Tree Giveaway
Since August 2020, the free tree giveaway has supplied Greater Sydney residents with over 67,000 trees to plant in their gardens. The trees have been supplied through Bunnings Warehouse and IndigiGrow Nursery to contribute to growing Sydney's canopy and making our suburbs cooler and greener.  
The giveaway is open to Greater Sydney households with a limited number of native and exotic trees being offered monthly to contribute to increasing urban canopy. Every tree planted from the Free Tree Giveaway contributes to the Greening our City Premier's Priority of planting 1 million trees by the end of 2022 and 5 million trees by the end of 2030.
Everyone Plant One
The Everyone Plant One campaign encourages Sydney residents to plant a tree in their garden or on their balcony to make their suburb a cooler and more liveable place. 
The campaign built upon outcomes from behavioural science research, highlighting the benefits that trees provide to our community and lives. The campaign had monthly themes that included shade, privacy and attracting bird life. Tree registrations by the public and awareness of the program increase significantly during the campaign period. 
Landcare and Greening Australia partnerships
The NSW Government has partnered with Greening Australia and Landcare NSW to plant thousands of new trees across Greater Sydney to expand the city's green canopy.  
The partnerships will see over 172,000 new trees planted in Greater Sydney's parks, schools, and communities, most of which will be planted by the end of 2022 and contribute to the target. 
The respective partnerships will deliver: 
The Creating Canopies project which will see over 100,000 trees planted across Greater Sydney, with a focus on Western Sydney with Landcare NSW
The Cooling the Schools program which will bring tree planting education into classrooms as well as plant over 72,000 trees across schools, parks and community spaces across Greater Sydney with Greening Australia.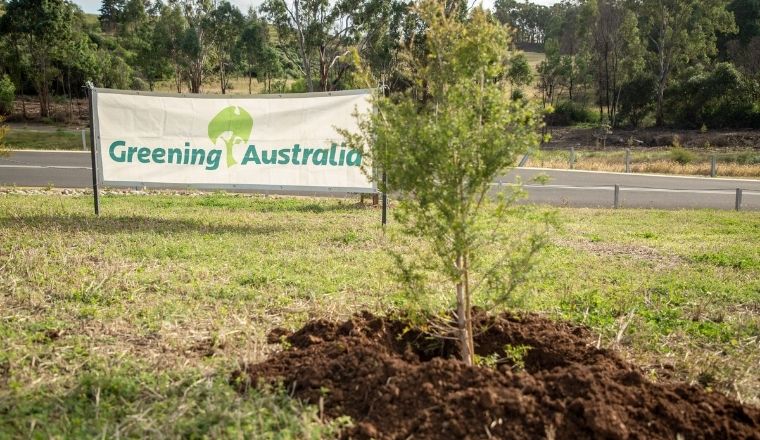 The program has also partnered with Planet Ark to be a category sponsor of National Tree Day activities within Greater Sydney until 2022. As part of this arrangement, 10,000 seedlings were donated towards Planet Ark's Seedling Bank in 2020, an initiative that aims to safeguard the supply of seedlings for community groups. 
Find out more information about the programs and partnerships being delivered, including how you can participate.
Greening our City Grants
Greening our City grants support local councils and their partners to enhance urban tree canopy, green cover and strategic planning outcomes across Greater Sydney. 
Three competitive funding rounds between 2019 and 2021 have awarded over $25 million to tree planting projects across 32 local government areas in Greater Sydney. Over 85,000 trees will be planted in streets, parks and plazas in some of the hottest parts of the city.
In 2020, the program launched the Green Innovations funding stream with $2.1 million being awarded to 12 projects that will showcase best practice, scalable solutions to overcome barriers to tree planting. Outcomes from these projects will be shared with councils and industry as projects are completed.
In 2022, the program launched the inaugural Greener Neighbourhoods grant round. The program offered non-competitive grants to help councils in Greater Sydney to strategically plan for and manage urban forests in their local government area. A total of 28 Greater Sydney Councils took up the offer, sharing in $1.37 million to deliver 32 projects.
Find out more information about the projects awarded grant funding, including those located near you.
What can you do?  
You can make your home and local area a greener, cooler and more beautiful place to live. It's as easy as planting greenery in your garden or on your balcony. Just 1 or more small trees will make your home cooler and more private, with improved air quality. 
Recognise your efforts by registering your tree online.