Minister Dominello launches nsw.gov.au Public Beta
---
The nsw.gov.au showcase included the latest user testing results, the project roadmap and a panel session with the NSW Registry of Births Deaths and Marriages. 
Minister for Customer Service Victor Dominello marked the public beta launch of nsw.gov.au at the March nsw.gov.au project showcase. In his opening remarks, Minister Dominello stated the importance of digital transformation, why we're stepping up our game in NSW and how consolidation will help customers now and in the future. 
User Testing 
We sought feedback from real users throughout the development of the consolidation strategy, Alpha and Beta products. The latest findings from user testing were presented at the showcase to give an overview of user habits, preferences and feedback.  
Through online and face-to-face research with a broad range of users, we gained insights on: 
design and visual appeal 
wayfinding 
content 
user task completion 
general experience (site speed, device compatibility) 
The research also included eye-tracking technology to observe customer behaviour.  
We conducted four rounds of testing, across the participants. 16 different tasks were assigned, and each measured on an 'ease of use' scale, with 0 being very difficult and 10 being very easy. The benchmark score was 7. The best performing tasks with an ease score of 9.5 to 10 were:
Where on this website would you look for information on starting a small business? (Ease Score: 9.5, Task 5) 
Where on this website would you find information on death certificates? (Ease Score: 10, Task 11) 
Where on this website would you find information on renovating a property? (Ease Score: 9.6, Task 12) 
Where on this website would you give your input into this legislation? (Ease Score: 9.5, Task 13) 
Where on this website would you find information on getting a birth certificate? (Ease Score 9.7, Task 14) 
The results were mostly positive (see below) and any qualitative feedback taken back to the project team to explore.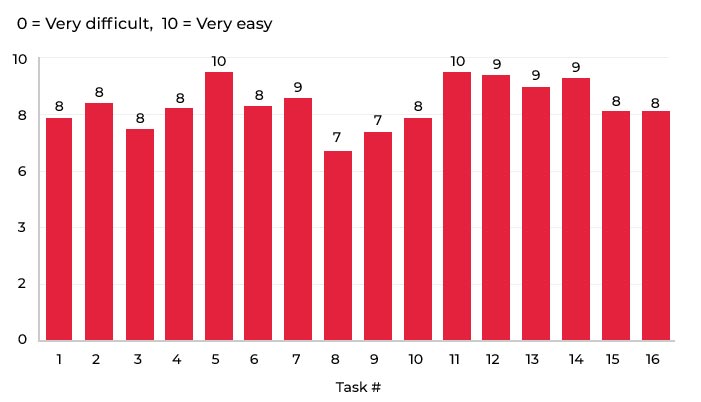 Births Deaths and Marriages Panel 
The NSW Registry of Births Deaths and Marriages (BDM) was the first agency to transition onto nsw.gov.au. New to the DCS cluster, consolidation of the registry's information was the preferred option to building a new website for its cost savings and speed to go-live. A small team of subject matter experts (SME) from the registry worked closely with the project team. They also appeared in the panel discussion at this showcase.   
Rachel Bernauer (Senior Advisor, Digital Strategy) represented the project team. She said having an open team who embraces learning, uses evidence and a data driven approach contributed to a successful implementation. Having a full-time SME co-located meant a close collaboration, daily updates and knowledge sharing.  
Alana Sheil (Assistant Registrar) from BDM spoke of how the new site will be a huge benefit to their customers, meeting their guiding principle of continuous improvement. One of the key developments was to offer mobile-first capability, supporting online birth registrations where 50% are completed on mobile.   
Read more about the Births Deaths and Marriages consolidation 
It was fantastic to have so many of our colleagues from across NSW Government take part  in person and online via the live stream.  
The nsw.gov.au project team hosts regular showcases to update our NSW Government colleagues on the progress of the project. 
Post your comments, thoughts and feedback below.