Access your COVID Safe business resources online
Enter the email address you used to register your business or organisation to go to your COVID Safe resources.
Phone
Call us on 13 77 88 from Monday to Friday between 7:00am and 7:00pm (Sydney time). COVID-19 related enquiries are available 24/7. 
For translation and interpreter services, please call 13 14 50 and ask the interpreter to phone 13 77 88.
If you are deaf, hard of hearing and/or have a speech impairment, contact us through the National Relay Service. Choose your access option and ask for 13 77 88 when asked by the relay officer.
If you can't call 1300 numbers, please call +61 2 8894 1555.
What you get in your COVID Safe resources
Your COVID Safe resources online are personalised to your business or organisation.
Here's a quick guide to the resources you'll get and how to use them.
Unique QR code and online concierge check-in form
QR code works with COVID Safe Check-in on the Service NSW app. It makes customer record keeping easier for you, with all customer data going straight to Service NSW.
Service NSW Check-in Webform can be used as an alternative to QR codes for collecting contact details, for instance when your customer or visitor doesn't have a smartphone.
---
Signage and posters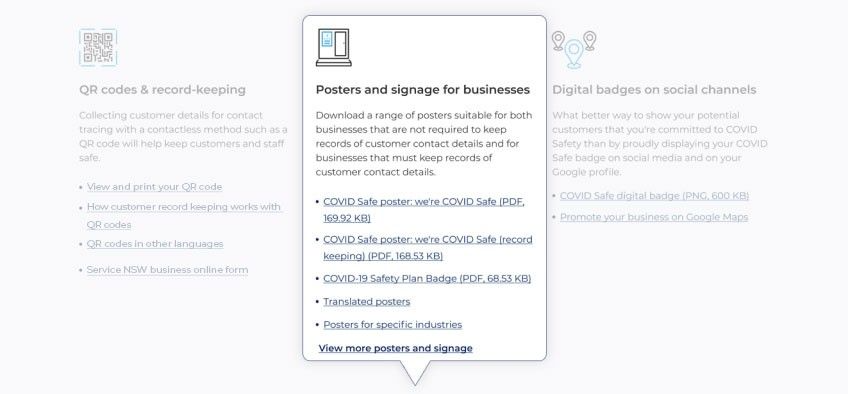 Find a range of COVID Safe posters to display on your premises to let customers and visitors know you're looking after their health and wellbeing.
---
Related information