Creating trusted players in the NSW multi-unit residential market. Fast.
Who will be the trusted players in the NSW multi-unit residential market by the end of 2021? What will incentivise them?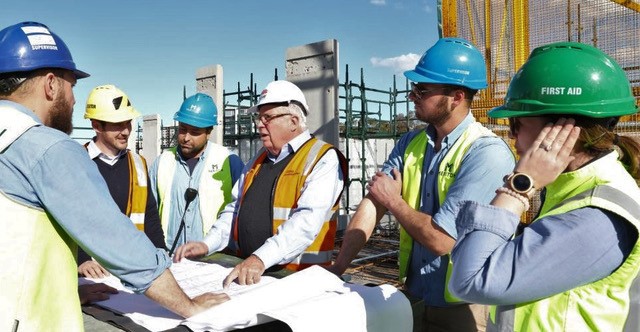 Key points
The Regulator is very focused on being future-fit and impactive
The Design and Building Practitioner's (D&BP) Act is less than 8 months away
Developers now need to engage designers and contractors mindful of the D&BP Act
The quest to become a 'Trusted' player is not an overnight process – it needs to start now
New ratings systems are coming in 2022 that will make it easier for consumers to gauge trustworthiness 
Digital is the new leap in industry capability building and accountability.
Trustworthiness is resetting the aspirational dynamics of an industry known for high risk and little accountability. Trustworthy buildings – buildings that 'do no harm' and put the customer front and centre – are our new goal.  
With only eight months to go until the NSW Design and Building Practitioners Act (D&BP Act) comes into play on 1 July 2021, it's time to raise the bar and start preparing for a new world order where 'trustworthy' buildings are the norm.
Our focus for the past year has been on implementing the new NSW Residential Apartments - Compliance and Enforcement Powers Act (RAB Act) which began on 1 September 2020. The RAB Act resets the landscape to make developers and builders more accountable for their projects. This Act helps reset the balance in favour of the industry's customers before and after they purchase new apartments. 
A new program of pre and post Occupation Certificate Audits has commenced with four projects being audited in September and six more starting in October. Of the first four - two were issued prohibition orders and paused, for underperformance (once these rectify the issues, they'll be able to proceed as planned). 
The NSW Construction reform legislation is a process with purpose. Designers, Builders, Certifiers, Installers, Suppliers and Manufacturers will have to be much more accountable for their performance.
The Design and Building Practitioner's Act will be the next step towards instilling trustworthiness back into the NSW residential market. This Act will introduce the need for design professionals to be qualified. 
It will establish a requirement for declared designs to be lodged on the NSW e-Planning Portal ahead of construction commencing. And it will require authorised builders to declare that projects have been constructed in accordance with declared designs and the Building Code of Australia. Builders will be required to lodge declared "as-built" drawings on the e-Planning portal. 
They will all have a duty of care.
Another step towards establishing trustworthiness in new residential buildings are the clearer roles of Certifiers as set out in the Building and Development Certifiers Act 2018 (B&DC Act) which took effect on the 1st July 2020 and the new NSW Certifier Practice Standard (CPS). The CPS outlines enforceable standards for conduct and record-keeping, making it clear that certifiers are public officials with unique responsibilities to always act with integrity and independence. 
Developers will need to embrace the new playing field in NSW. 
The new legislation resets the roles and accountability landscape for the key players. It places direct accountability on developers to make good choices in commissioning adequate design to enable functional, trustworthy buildings to be delivered. That accountability flows to the contractors they engage, and right through their supply chains. The RAB Act provided significant consequences for those who are not delivering more trustworthy buildings.
A set of model terms for the engagement of design consultants and contractors has been developed by an industry working group to assist developers, consultants and contractors to prepare for meeting the obligations of the D&BP Act. These are available on the Building Commissioner's web site.
We are now working to define what a future-fit NSW Building Regulator will look like, how it will function and how it can make sure the needs of the customer remain at the core. These are the essential ingredients to rebuild public confidence. And this is what we are working to deliver. 
To design a future Regulator we need to understand how the design and construction landscape is likely to evolve over the next 2 to 5 years, as the new legislation takes effect. We will need to measure progress to inform our efforts and the shaping of future policy. These measures will also inform industry where there are priority capability gaps and how to address them.
A modern Regulator will need to have capability beyond a single jurisdiction. They will need to understand dealing with how buildings will be designed, procured, assembled and assured in a global marketplace. NSW accounts only for approximately AUD $90bn of global USD $12trn turnover. Regulators will need to understand the context in which they operate.
Modern buildings are now assemblies of services and products sourced from multiple jurisdictions, often jurisdictions in which we have little direct control. And modern buildings are incorporating more technology and sensor-driven services. They are becoming smarter. These factors will introduce new harms for regulators they have previously not considered.
While these insights may indicate progress, overall, we're on the back foot. The Australian construction industry is now two decades into the 21st century. It is still mostly operating and regulated in much the same way as it was in the twilight of the last. It would be a pity to waste this unique moment in time not to develop clearer pointers to help industry and the regulator to shape their future business models. And to build capability to assure customers.
An important question we must now ask is - what is a trustworthy building? 
How will consumers understand this proposition, and how can the market reward those who make trustworthy buildings? 
To begin, we need a consensus around what a trustworthy building should be. 
Trustworthy buildings should do no harm to the public or their occupants: physically, economically, emotionally or environmentally. 
The Construct NSW reform strategy points us in this direction.
Our strategy is an important step in delivering on the NSW Premier's Priority to make the NSW Government the world's most customer-centric public service. The Office of the Building Commissioner (OBC) is embedded within the NSW Dept of Customer Service because it aligns specifically with these efforts. Construct NSW is a beneficiary.
Across the NSW Government and private sector, we must come together on this goal. That is our challenge to the industry. Together we must solve some fundamental questions around trustworthiness. This isn't a reform strategy that's about tinkering with business as usual. It's centred around a philosophical commitment and plan of action to build trust. 
The risk landscape now needs to be characterised. These are some of the questions we are asking:
What issues can we expect to have less impact by 2021?
(e.g. better buildings resulting from the D&BP Act, greater developer consciousness and mitigation of past project delivery models following the RAB Act and increased accountability for all players from new digital licencing and process capabilities)
What issues may remain?
(e.g. residual impact from jurisdiction and external to jurisdiction supply chain assurance weaknesses, resolution of the final mix of incentives and burdens to recognise trusted and not trusted players, slowness of Australian  Standard adoption, not making the critical capability building and credentialing leap needed by key professions to enable the D&BP Act, needing to drive developer understanding of the new legislation and effect of not changing)
What new issues may be on the horizon?
(e.g. Industry slowness to fully embrace the opportunities of supply chain integration technologies and practice, failing to anticipate the necessary governances that will emerge as buildings become smarter and self-directing, having missed opportunities to facilitate and leverage new global solutions to help regulate and assure buildings, failing to do enough to retain, retrain and attract a future-ready workforce)
For now, these are the questions that industry and government need to consider as the Regulator develops its future business model for presentation to the parliament in 2022. 
These answers will help inform how a governance model can be created that incentivises and distinguishes, trusted industry performers. They will help focus our regulatory powers on those continuing to underperform. 

What existing risks do we expect to see reduced by 2022?
OC Audits are exposing poor management trends such as wet areas including bathrooms, basements, podiums, planters, roofs and external enclosures. So far we've seen some inadequate design, installation short cuts and questionable certification. As we challenge these shortcomings, we are pleased to see Developers moving quickly to rectify these.
Other examples include the design and control of structural elements, the installation of fire systems and more recently, the ordering and installation of lifts and hoists.
The first OC prohibition order has been issued and noted on the NSW Fair Trading website. The order describes the issues involved and does not seek to apportion responsibility at this time. 
This is all part of the cultural and performance changes that the new legislation is specifically designed to drive. 
We aren't looking to shut things down. Quite the opposite. In all cases, we will work with developers to get a positive outcome for consumers and enable them to move on. We are pleased that a similar intent has been shown by all parties so far. This is effective, successful collaboration.
Our goal is work with all players to showcase best practice to create the foundations for a better Building industry. 
Modern digital and analytics capability will be a core capability for a future-fit Regulator. Industry leaders large and small are also embracing these capabilities as they look to work more effectively with their supply chains. Integrating design, procurement, installation and building assurance are the drivers. The NSW e-planning portal is a digital initiative that will enhance the experience and productivity of Developers, Designers, Builders and Certifiers, and also importantly, the consumer.
The NSW Building Regulator is deploying a new Single View of Building (SVoB) application that joins up some 20 data silos previously deployed by subject matter inspectorates over many years. This new capability will be extended to operate in collaboration with Local Government NSW, Fire and Rescue NSW and others. Regulator data integration will help all players.
A new research project to look at the effectiveness of Stata Management will commence shortly. And NSW Fair Trading is upgrading the serious defect reporting for common property strata community managers.  
We're working with Strata Communities Australia to help build a more immediate picture of buildings with serious defects that were constructed in the last six years. 
By late in 2021, the NSW Building Regulator will be able to draw from real-time intelligence across many new capabilities. These will provide reliable single sources of truth and enable the regulator, industry and consumers to 'tell us once' – aligned with the Premier's Priority for world-class public service. 
Digital initiatives are changing the game.
We will soon be using new digitally-enabled dashboards to inform the market, using real-time evidence and data. There is little value in building capability without being able to measure it. This is the approach that the NSW Office of Building Commissioner (OBC) is taking with the Six Pillars that underpin the Construct NSW reform strategy. 
Our objective is to provide indicators that show which harms are most present and how they are changing in order to build trust. We will be creating indicators that show where the most frequent harms are occurring and implementing initiatives to turn these around. We will be developing individual player dashboards to show Developers, Designers, Constructors, Manufacturers, Installers and Certifiers of where the residual fault lines are occurring and where they sit when compared with their peers. 


These tools will be as useful for helping to guide future behaviour, design priority education tools. This information can be analysed to point to players who need to lift their game using evidence-based measures that compare them with peers and their historical performance. This data can also be deployed to identify geospatial hot spots to target education efforts.
We want to help all with key roles to play to be able to succeed and deliver a better deal for the industry's customers.
How the construction industry narrative has changed in NSW over the last year. Some of the least trusted players can now see how out in the cold they will be if they do not start to change now. With the D&BP Act only eight months away, there is an obvious imperative to get new projects underway that are dedicated to lifting standards and building consumer trust.
So, who will be the trusted players in the NSW multi-unit residential market by 2022? 
The answer to this question is largely in the hands of the players who want to become trusted. Those who are behind the start line today have a lot of work to do. They should learn from those well on this journey. These transformations do not occur overnight.
What will incentives there be for the trusted players and disincentives for others? Surely the answer is obvious. Once we turn the spotlight on excellence for all to see, there is nowhere to hide. The trusted will attract more customers and less regulatory burden. They will attract the best workforce and supply chain. That is just the start of the privileges that will flow to the trusted players. 
That, and the trust of customers, who are – after all – the most important players.
David Chandler
NSW Building Commissioner