Rules for boating on Sydney Harbour
Sydney Harbour has busy navigational channels and special rules. Here's what you need to know to use the harbour safely and enjoy your day out.
---
Planning to go out on Sydney Harbour
Sydney Harbour is an extremely busy waterway. It's used by recreational and commercial vessels, from big ships and high-speed ferries to small powerboats, yachts and kayaks.
It has busy navigational channels and special rules.
The risk of collision is much higher on the harbour, so keep a proper lookout for other vessels, swimmers, marine life, hazards and seaplanes. Be prepared to take action to avoid a collision with another vessel. You may need to slow down to travel at a safe speed and keep a safe distance.
If you're planning to go on the harbour, know your responsibilities and take extra care.
Make sure you have the right safety equipment and lifejackets for enclosed waters before you go.
Sydney Harbour Bridge Transit Zone
The Sydney Harbour Bridge Transit Zone was created to allow safe navigation through this very busy part of the harbour. It prohibits vessels from stopping or drifting under Sydney Harbour Bridge.
The zone includes the area around Sydney Harbour Bridge, and between Bennelong Point and Kirribilli Point to Millers Point and Blues Point. It does not include Walsh Bay, Sydney Cove, or Lavender Bay north of Blues Point, or the southern end of Milsons Point ferry wharf.
You can only travel through the zone to get to an area alongside or outside the zone.
Vessels must not travel faster than 15 knots or anchor or drift in the zone, except in an emergency.
Exclusion zones
Check if and where you can take your vessel on the harbour.
personal watercraft (PWC) – you must not drive a PWC anywhere on Sydney Harbour. This includes its tidal bays, rivers and tributaries, Parramatta River, Middle Harbour and Lane Cove River.
kiteboards – you must not use a kiteboard on the harbour
sailboards – many areas within the harbour are restricted. Check maps and signage.
See Exclusion and restriction zones.
For information on seaplanes in Rose Bay see the best practice guide for the use of Rose Bay (PDF 373.38KB).
Ferries
You must follow the give way rules on Sydney Harbour.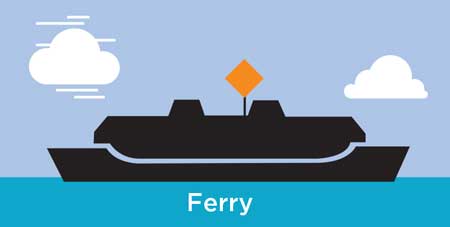 There are special rules for ferries that display an orange diamond shape. This shape is called the 'priority over sail signal'. This replaces the usual 'power gives way to sail' rule during the day, meaning that sailing vessels must keep well clear of these ferries. The 'priority over sail signal' does not apply at night or if the ferry is overtaking a sailing vessel.
Sailing vessels must keep a minimum distance from these ferries of:
200m from the bow
30m from the sides or stern.
High-speed ferries display an all round yellow flashing light when travelling at speed. Be aware that they may be travelling much faster than they appear to be.
Shipping channels
Sailing vessels and powered vessels must keep well clear of big ships in Sydney Harbour's shipping channels. These vessels are limited in their ability to manoeuvre. You must keep to starboard (right) side and give way.
Sydney Vessel Traffic Services (VTS) broadcasts safety messages and shipping movements every 2 hours on VHF 16/13. The broadcasts start daily at around 1am.