Empathy lab: An experience that enhances accessibility and inclusive design
---
Charissa Ramirez is a user-experience coordinator at the NSW Department of Customer Service. She is part of a small group that runs empathy labs across government to help raise awareness around online accessibility and ensure this awareness is built into nsw.gov.au. In this post, Charissa describes how the empathy lab came about, how it is used and what lies ahead.
The nsw.gov.au website aims to create a better digital experience for NSW citizens by placing the customer at the centre of everything we do. However, to be truly customer-centric, we must understand the needs and challenges of every person in our audience. 
To this end, our project team has provided full support for an inclusive-design project. The project, called the empathy lab, has helped bring our customer-centric strategy to life for those of us who work on nsw.gov.au and, ultimately, for people with disabilities. 
The empathy lab is run by a team at the Department of Customer Service (DCS), with an over-arching vision to raise awareness around accessibility and ensure this awareness is built into nsw.gov.au.
Why is it important to raise awareness for accessibility?
In NSW, 17 per cent of the population has a reported disability according to Australian Bureau of Statistics data from 2018. Government services need to be designed to ensure people living with disabilities can use them. As public servants, we need to enable access to services, not create barriers.
Accessibility benefits not only people with disabilities but extends to all of us. Accessibility seeks to solve for a spectrum of capabilities at different stages of human life such as when we experience a situational, temporary or permanent impairment and as we grow older. 
How the empathy lab came about
The empathy lab project for DCS is an idea initiated by seven representatives from across the Customer Service cluster: Lea Wild, Linda Auyeung and Akansha Bhatia of Revenue NSW, James Fehon of Digital NSW, Bani Singh of the Office of the Secretary, and Jessie Callaghan from DCS Transformation unit and myself from the NSW Government Digital Channels team.

Within our different teams, we have talked about our lack of access to assistive technologies and resources to understand the experience of people with disabilities. When we started brainstorming we were guided by these questions:
How might we build capability across the sector by allowing teams involved in building digital products to experience how their work supports assistive technologies like screen readers?
How might we spread an awareness of accessibility and inclusive design principles across DCS so we can improve our services to our customers?
During our research, we learned how accessibility empathy labs enabled people to see how assistive technologies work and to try simulation apps that show how people with disabilities experience the web. 
We looked to empathy labs worldwide as references for how to set up our own, and we modelled our lab on the one set up by the UK government. 
From vision to reality
In our first month beginning in September 2019, we went from a seed of an idea to walk-through prototypes of the empathy lab – complete with laptops, assistive screen readers, glasses that simulate vision impairments and apps that simulate a range of other disabilities.
Executives and managers supported our efforts, and our director, Mark Higgs allocated operational funding.
During empathy lab sessions, we watched as people tried tools that show the challenges for people with disability. For many, it was an eye-opener such as when they tried the colour perception, dyslexia and hypersensitivity simulators. 
The empathy lab sparked the accessibility discussions we'd hoped it would. 
"It's very helpful to have an immersive experience that highlights the range of accessibility challenges to consider," Isobel Scouler, Director NSW Government Brand and Campaigns, said.
"After my quick trip to the empathy lab, I better understood some of the tools and techniques available to test and improve accessibility of communications," she said.
Dr Thomas Loveday is the Director, Human-centred Design, at eHealth's Clinical Engagement and Patient Safety directorate.
"The key takeaway from the empathy lab is that we don't need sophisticated or expensive tools to better empathise with people with disabilities," Dr Loveday said.
"For a relatively low cost, it is possible to approximate the experience of disability to guide the design of the solutions we develop. Increasing accessibility is an inherent good, and the empathy lab helps us with that aim," he said.
Gabrielle Quirk, Community Manager for Social Media at NSW Department of Customer Service, said the physical experience of vision impairment was very powerful.
"My biggest takeaway from the empathy lab was a deeper understanding of the breadth of visual impairments that might impact how someone interacts with our social updates.
"I already knew that alt text was important, but the empathy lab taught me that there was plenty more we could be doing on social to cater to people with varied abilities," she said.
What you can find in the empathy lab
We use a variety of equipment and technology for our lab sessions including:
We didn't have a permanent room for the lab so we thought outside the box and realised we could turn a workstation or a meeting room into an empathy lab for a day.
The empathy lab remains portable, ready to be set up at short notice. Think of the lab as an experience and educational space with a collection of tools and resources that can be set up anytime, anywhere. 
The empathy lab and nsw.gov.au  
The NSW Government Digital Channels team fully embraced the empathy lab. To support our accessibility goals, we have used the lab in many ways:
onboarding our UX designers 
onboarding new starters
holding empathy lab sessions to complement our presentations on accessibility including:

designing for accessibility
creating accessible social media posts 
creating accessible documents 

using empathy lab resources such as screen readers and accessibility auditing tools in testing our website, apps and documents for accessibility.
Making accessibility front of mind for nsw.gov.au
The empathy lab resources has enhanced our understanding of the challenges that people with disabilities experience. Using these tools we were able to have conversations with designers, content creators and project leaders about what can we do to reduce or remove these barriers. 
It also highlighted for us some of the principles of the Web Content Accessibility Guidelines (WCAG) which NSW Government agencies need to meet at WCAG 2.1 level AA standard.
Here are some of the ways we have used the empathy lab resources:
A screen reader is a software that converts web content into non-visual means like text to speech or on to a Braille device and enables people who are blind or have vision impairment, literacy or learning disability to navigate websites and use web applications. In the empathy lab we are able to use screen readers on different devices in combination with web accessibility evaluation tools. Experiencing how our website works with screen readers has helped us in understanding web accessibility principles such as perceiving information and navigation.
We use the simulation tools in understanding the different ways people experience the web. For example, the browser extension app Funkify has a dyslexia simulator which shows letters appearing to jump and move around the page. By learning how dyslexia affects user experience helped us to focus on delivering a more accessible experience such as making content easier to read, removing distractions and unnecessary movement on the page and providing clearer steps in accomplishing a task.
Colour vision simulation tools show what a page looks like to people with different types of colour vision impairment. This demonstrated to us that not everyone perceive colour in the same way and why we need to avoid providing information by colour alone.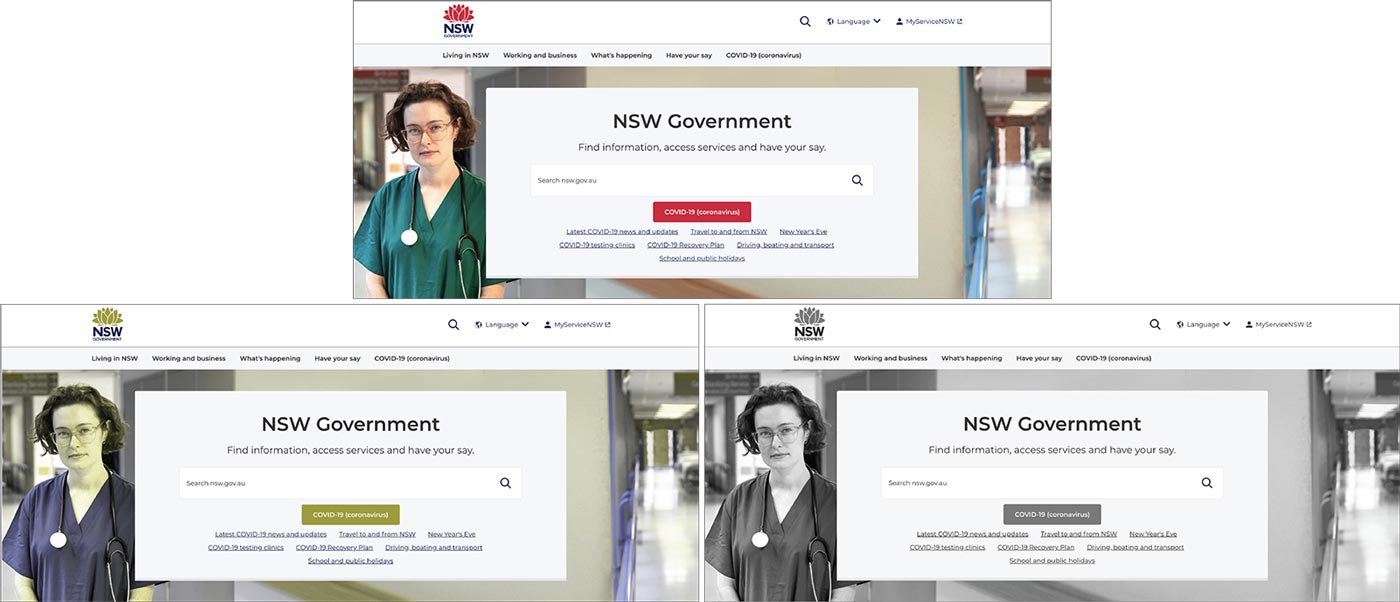 Through these learnings, we can become more conscious of our design decisions and how these impact on accessibility and user experience.
Continuous learning
Simulations are helpful in raising awareness, but tools cannot replicate the actual, 24/7 experience of disability.  The experts are people with lived experience of disability.  We will continue to leverage empathy lab opportunities, and we also look forward to more interaction with people with disabilities to better inform our work. 
We have plans to run usability sessions with people with disabilities so we can better understand the barriers posed by inaccessible technology. Through this understanding, we can make nsw.gov.au more accessible, inclusive and customer centric.
Our team believes that we should continue to engage in a deeper discussion of what we, as designers, developers, and content creators, can do and what strategies we can use to maximise accessibility to nsw.gov.au for all NSW citizens.
Do you have any thoughts on this? We'd love to hear from you and are happy to share our resources and experience.