The new-look classroom: developing the nsw.gov.au Digital Capability Curriculum
---
Effective training makes learners more efficient. It increases productivity and in-house capability, leading to happier, more satisfied, and engaged, future proof workers. In this post, we explain how we are developing the Digital Capability Curriculum for the nsw.gov.au Program to address the learning needs of digital practitioners across the NSW Government. 
Challenge: Develop a curriculum that caters to all   
With more NSW Government employees taking up flexible working practices, online classroom training has become a key method of professional development.  
In 7 steps, we developed a Digital Capability Curriculum framework for the nsw.gov.au program. With this curriculum, we want to prepare workers with skills for the future, providing essential knowledge while delivering potential business benefits.  
1. Training needs analysis  
We identified what training would help digital practitioners to contribute to nsw.gov.au. We took into consideration the nsw.gov.au website strategy and implementation approach, our website consolidation roadmap, where digital practitioners were located, and their current roles and responsibilities.  
Gather research: the implementation plan for the project helped gather some background around the business goals.   
Understand needs: what is required of the learning cohort once their website has been consolidated? What will they need to know and best ways of teaching? We considered the existing capability frameworks for digital practitioners across NSW Government. This was compared to the expected current level of capabilities across the network. 
Our research identified that there was a disparity of skills within the digital practitioner cohort. Some learners had many years of experience and knowledge of content management systems, branding guidelines and other NSW Government policies and procedures. At the other end of that spectrum, some learners had little knowledge of content management systems outside of what they had been shown on the job, and website maintenance was one responsibility to manage with their other duties. 
2. Know your audience  
The capability curriculum recognises and respects that adult learners learn in different ways.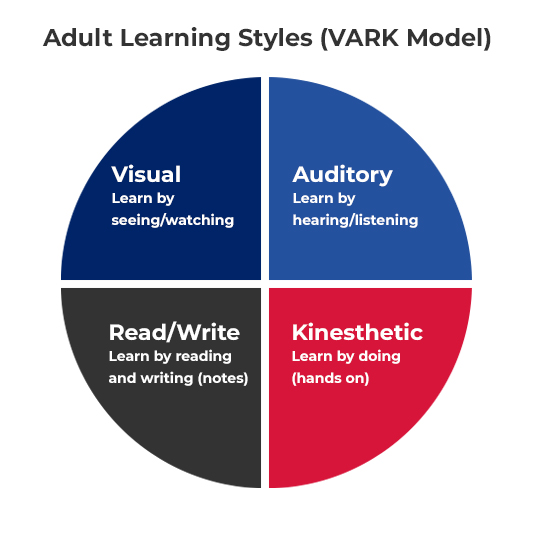 Knowing how adults learn is only part of the process; we also want to know who our learners are: 
How long have they been with the organisation?   
What department do they work for?  
Where are they located?  
What is their existing knowledge of content management systems?  
Insights into these questions guided us as we started to develop the curriculum content.   
3. Develop learning objectives  
We set learning objectives to clearly list what we wanted learners to be able to do at the end of the training.  
We found common themes, such as meeting accessibility requirements, writing in plain English and content creation skills. This helped us categorise and group learning modules with similar content to reinforce the desired learning objectives. We could also break down training modules into a logical learning pathway. 
4. Design training materials  
Once we outlined learning objectives for each module, it was easier to develop a list of topics to achieve these goals.  
We applied a "blended learning" approach composed of different learning formats. The modules we developed contained:  
PowerPoint slides 
interactive activities 
discussion questions 
other learning techniques, including quizzes.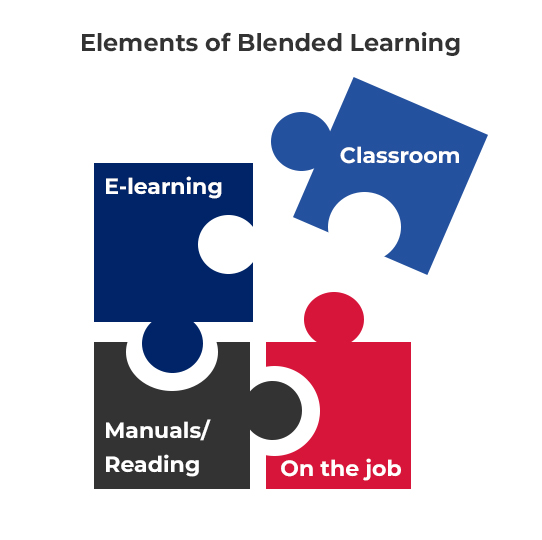 During the design phase, another consideration was time. We were mindful that digital practitioners couldn't be away from their day-to-day work priorities for long periods of time, so some training materials were set as pre-work, adapted into e-learning modules, made available as follow-along user guides or short self-help how-to video tutorials. 
5. Implement the training  
We are currently implementing virtual blended learning as a minimum viable product, currently available to a limited learning cohort.  
Our blended learning approach incorporates a mix of e-learning modules to be completed on the job before attending small online workshops. To facilitate e-learning, we arrange access to the online Learning Management System (LMS) in advance. In preparation, learners are notified of upcoming training and required pre-work tasks.   
6. Evaluate the training  
To assess the goal of uplifting practitioner capability, we need to know that the training was effective. To do this, we evaluate learners through performance reporting on the LMS and ask for feedback from training participants. Over time, we can also track improvements in a learner's work on nsw.gov.au, to see how they apply what they've learned.  
7. Repeat  
The curriculum development process is constantly evolving. We know that we may have to return to different parts of this process in the future. 
Run the training  
Evaluate the learning outcomes  
Tweak the course content  
Repeat  
Final words  
It's early days – we don't yet know how this training curriculum will be received by the learners, or how we track to capability and goals. However, we'll continue to develop training content with learners' needs at the centre.  
What kind of training would you like to see? Share your experiences, questions and challenges below, we would love to hear from you.