Anzac Day in NSW
Anzac Day 2022 commemorations, services, and events taking place in NSW on Monday, 25 April.
---
Anzac Day events in NSW
Anzac Day, on 25 April, marks the anniversary of the first major military action fought by Australian and New Zealand forces during the First World War.
Anzac Day commemorations, services, and events take place throughout Australia. In NSW these are generally organised by the Returned and Services League of Australia (New South Wales Branch) (RSL NSW) and open to the public to attend.
All Anzac Day 2022 commemorations across NSW will proceed as normal this year.
To find an Anzac Day event near you, visit the RSL NSW website.
Additional websites
Dawn Service Trust – Dawn Service
RSL NSW – March
Veterans Affairs – Anzac Day
Attend the 2022 Anzac Day Dawn Service and March in Sydney
The Anzac Day Dawn Service and March will take place in Sydney and the public can attend in person or can watch the live stream of the Dawn Service.
A replay of the service can be watched from this page. 
The March will be broadcast on ABC TV.
Official NSW Anzac Day Dawn Service
Location: The Cenotaph in Martin Place Sydney
Time: The Dawn Service will commence at 4.30am and finish at 5.30am
General public viewing areas: Located in two sections, open from 3am:
Section A: Entry via George Street (to Martin Place Cenotaph area). Seating is available until capacity is reached. Standing areas available. 
Section A: Entry via Pitt Street (to Martin Place Cenotaph area). Standing areas available. 
Section B: Entry via Castlereagh Street (to Martin Place between Pitt Street and Castlereagh Street). Standing areas available. 
General public viewing areas will remain open until capacity is reached, and bag checks will be required upon entry to the site. 
Tickets are not required to attend the general public areas this year. 
Please note: Like previous years, access to the ceremonial area of the NSW Anzac Day Dawn Service will be via invite only, and only invited guests will be allowed entry into the site. Invited guests are able to enter the site via Pitt Street.
Auslan: The Auslan interpreting will be included in the ABC broadcast of the Dawn Service, otherwise a link to the livestream will be available.
Information: For more information, please visit the Anzac Day Dawn Service Trust website 
Sydney CBD Anzac Day March 
Location: The March takes place along Elizabeth Street in the Sydney CBD and there are many locations to view the March on both sides of Elizabeth Street.
Time: 9.00am to midday (approximate end time)
For more information, please visit the RSL NSW website.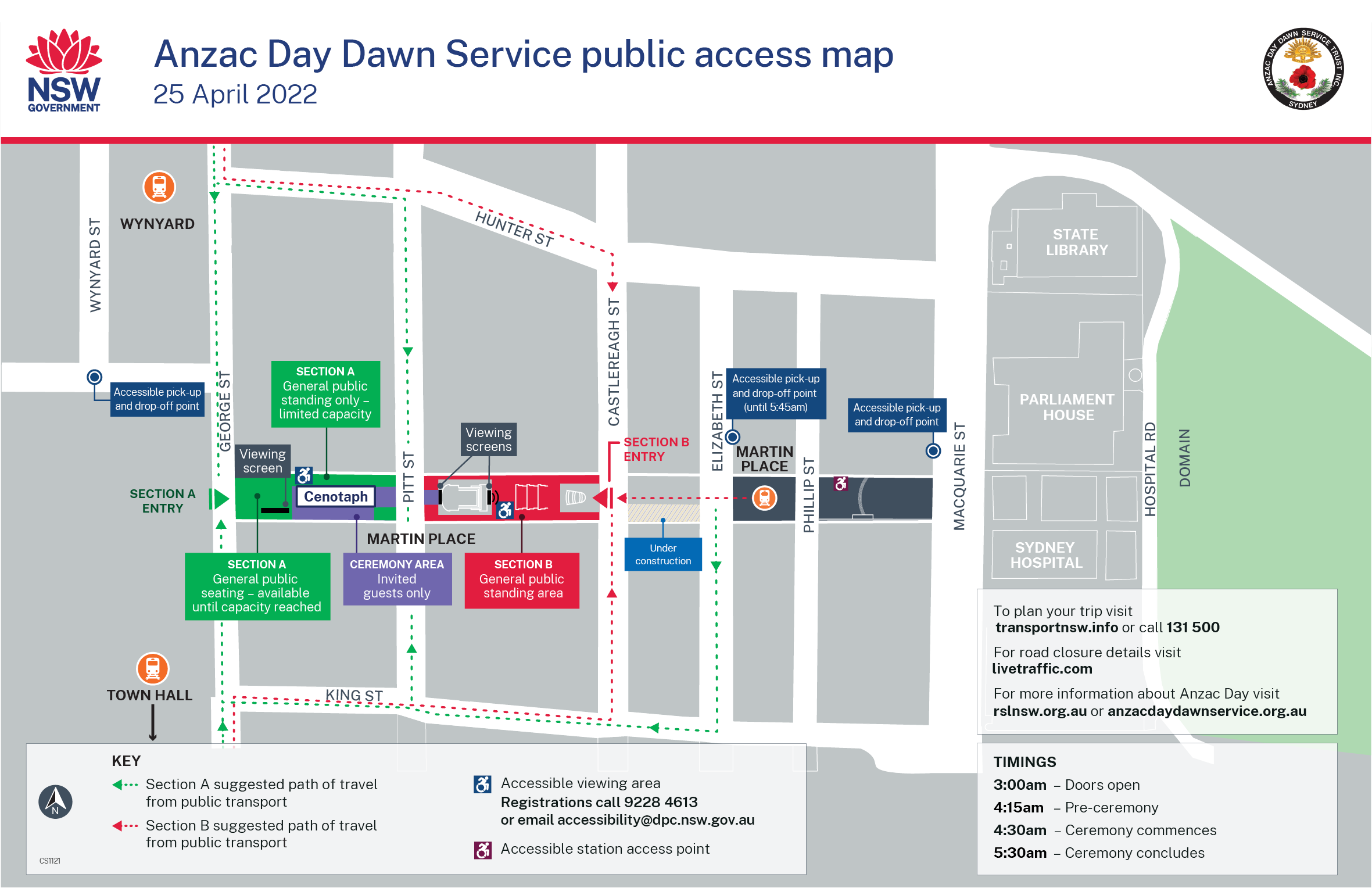 Accessibility Information – Dawn Service and March
Accessible viewing areas: Available to people with disability or limited mobility.
To ensure the Dawn Service and March are accessible to our whole audience, designated accessible viewing areas are available for people with disability and/or limited mobility and their guests.
 
To register for seating in one of the accessible viewing areas, please contact Karen Wade on accessibility@dpc.nsw.gov.au or call 9228 4613.
 
Auslan interpreting will be available at the Dawn Service on Anzac Day. The broadcast will include Auslan Interpreting of the Dawn Service, which will start from 4 am, more details to be provided closer to the day.
 
Accessible drop-off & pick-up locations have been established, and signposted at the following locations. There are no parking zones or Special Event Clearways so persons utilising the area will be required to move on as soon as they have dropped off their passengers.
Wynyard Street, Southern Side (off York Street)
21 Elizabeth Street (in front of Commonwealth Bank building) – only available until 5:45 am
197 Macquarie Street at Martin Place, western side of Macquarie Street (front of St Stephen's Church)
210 Pitt Street, approaching Market Street, the eastern side of Pitt Street (outside Stockland Piccadilly)
Plan Ahead
Spectators should plan ahead and use public transport to travel to the Sydney CBD on Anzac Day. 
Public Transport & Road Closures
Major roads will be closed and parking restrictions will be in effect throughout the Sydney CBD between 2am and 4pm. 
Spectators and participants are encouraged to catch public transport and leave the car at home.
Public transport is free for members and ex-members of the Australian Defence Force in uniform or wearing their medals from Saturday 23 April until Monday 25 April 2022. 
This entitlement also applies to accompanying carers, family and widows of veterans who are carrying an accreditation letter from RSL NSW or present a war widow's Gold Card.
Additionally, travel on all modes of transport on the Opal network will be free for commuters for 12 days from 4am on Thursday 14 April until 3:59am on Tuesday 26 April 2022.
Additional early morning train, bus and light rail services will be running and continue throughout the day.
Remember it's mandatory to wear a mask on public transport.
Plan ahead at transportnsw.info.
For road closures and real-time traffic conditions visit livetraffic.com
COVID-19 Messages
All Anzac Day commemorations across NSW can proceed as normal this year.
There is no requirement for QR code check in, and the wearing of masks is only encouraged for indoor settings where you cannot maintain a safe distance from others.
Please refer to nsw.gov.au for full details, or if the COVID-19 restrictions change
Ahead of Anzac Day, it is recommended you are up to date with your vaccinations, including the COVID-19 booster and flu vaccination (available mid to late April). 
Please wear a mask if you are unable to stay physically distanced when you attend Anzac Day events.
If you feel unwell, please stay at home and take a test. This will help to protect you and those around you.  
Consider doing a rapid antigen test before gathering with people at higher risk of severe illness, or attending an event. 
Attend outdoor events or gatherings in a well-ventilated space.
Wash or sanitise your hands regularly.
Health 
If you are spending the day outside, check the forecast as conditions can change suddenly, and you may need to prepare for warm, cool or wet weather.
Ensure that you wear sunscreen. Also wear a hat, sunglasses and weather-appropriate clothing such as loose-fitting garments made from natural fibres.
To avoid dehydration drink plenty of water and avoid sugary, or alcoholic drinks.
Wear comfortable shoes – in case it's a long day or night.
Plan ahead.  If you need to take medication at a specific time, carry it with you just in case you are delayed getting home. 
Dress code and wearing of medals
Dress should reflect the dignity of the occasion. Business attire is appropriate.  
Veterans and serving personnel are to wear their medals on the left chest. 
Many people choose to remember deceased relatives by also wearing medals, however, please wear these on the right-hand side of your chest.  
For more information please visit: https://www.defence.gov.au/medals/  
Flag protocol on Anzac Day  
The Australian National Flag is to be flown at half-mast from sunrise to 12:00pm on Anzac Day.   
During individual Anzac Day ceremonies, the Australian National Flag is to be half-mast and then raised to the peak during the playing of 'Reveille' at the conclusion of the service. 
Please note, Reveille is only played at a Dawn Service, all other times Rouse is to be played (with the exception of the Royal Australian Navy).   
For more information on flag protocol can be found here.
Rosemary 
Rosemary grows wild on the Gallipoli peninsula and a sprig of rosemary is worn every Anzac Day as a symbol of remembrance.
If you would like to secure Rosemary for your Anzac Day event, please contact Sydney Legacy on 02 9248 9000 or enquiries@sydney-legacy.com.au