Check in and help businesses stay open
Provide your name and contact number every time you visit a business, venue or organisation. This will help NSW stay in business so you can keep visiting the places you love.
Help us stay COVID Safe
Providing your name and contact number ensures NSW Health can contact you quickly and easily, if necessary. 
If you get COVID-19, fewer people will have to self-isolate as a result of having attended the same venue as you. 
Electronic check-in
Checking in and leaving your contact details using an electronic system is now mandatory at some types of businesses and events in NSW. It is not mandatory at retail stores and grocers.
QR codes
Electronic systems include things like QR codes, but if you don't have a smartphone the business should also be able to take your details another way, such as recording them on a computer or tablet device.
Protecting your privacy
Businesses are required to take your details only for the use of contact tracing for COVID-19 infections. If the business is going to use your details for marketing purposes (such as sending you emails) they must inform you clearly and obtain your consent.
Businesses and organisations:
amusement centres
aquariums
business premises that are used for auction houses, other than clearing houses
business premises that are used for nail salons, beauty salons, hairdressing salons, waxing salons, tanning salons, spas, tattoo parlours and massage parlours
crematoria
drive-in cinemas
entertainment facilities
hospitality venues:

casinos (all persons entering the premises)
food and drink premises (all persons consuming food or drink on the premises, plus staff and contractors)
micro-breweries, small distilleries holding a drink on-premises authorisation under the Liquor Act 2007 or cellar door premises (all persons consuming food or drink on the premises, plus staff and contractors)
pubs, small bars and registered clubs (all persons entering the premises, but not if they are entering the premises solely for the purpose of collecting food or drink to consume off the premises)

function centres
funeral homes
information and education facilities (other than libraries)
party buses
properties operated by the National Trust or the Historic Houses Trust
public swimming pools
recreation facilities (indoor)
recreation facilities (major)
sex on premises venues
sex services premises
strip clubs
vessels used for hosting functions or for commercial tours
zoological parks and reptile parks.
Events:
controlled outdoor events
corporate events
funerals and memorial services and gathering after funerals and memorial services
wedding services and gatherings after wedding services.
Electronic recording of entry is not mandatory for persons entering premises to attend a significant event at a place of public worship (such as a wedding or funeral) or entering premises for a religious service.
---
Use the Service NSW app to check in to a business
If you have the Service NSW app installed on your smartphone it can be used for quickly checking in to venues that display Service NSW check in signs.
Here's how it works:
Find a poster with a QR code. Check in with the Service NSW app if the poster instructs you to do so. See example below.

Open the Service NSW app and scan the QR code.

Confirm your contact details. Your information is pre-populated, so you do not have to enter data each time you check in to a business.

NSW Health will contact you if there is a confirmed case of COVID-19 at a venue you've visited. Your information will only be used for contact tracing. No personal information is shared with the venue.
Help us stay COVID Safe by checking in when you're out and about.
Download the Service NSW app and access an easy and secure contactless check in using a QR code.
A QR code is just like a barcode, with information that can be read by a smart phone camera.
It collects information and stores it securely in one place, making record keeping and contact tracing easy.
Look for the COVID Safe QR code when you arrive at the venue.
Open the Service NSW App on your mobile phone and follow the COVID Safe Check-in prompts.
Hover your phone camera over the QR code until your check-in is confirmed.
Show a staff member that you have checked in. 
Your information will be kept for 28 days and will only released by Service NSW for official contact tracing.
It's easy and it's COVID Safe.
Catch a taxi and check-in with the Service NSW app
For the safety of drivers and passengers, there will be a QR Code sticker located inside Premier Cabs, Legion Cabs, GM Cabs and some regional operators. 
Taxi passengers are strongly encouraged to scan the QR Code for contactless check-in to help manage the spread of COVID-19. Alternatively, if you do not have a phone to scan the QR Code, you can make a booking with the taxi company which will capture your details required for contact tracing.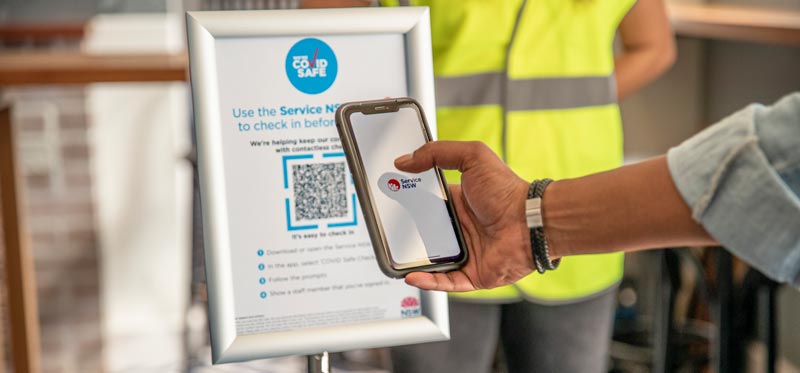 Download the Service NSW app
Last updated: 26 November 2020