Check in and help keep your community safe
Help make contact tracing quick and efficient - provide your name and contact number every time you visit a business, venue or organisation. 
About the check-in system in NSW
By law, some businesses, venues and events need you to check-in. This means they need to collect your contact details (name, phone number and/or email) to assist NSW Health with contact tracing. 
There are a few different ways to check-in, but as long as you are able to provide your contact details, you can enter the premises.
Businesses, venues and events that use Service NSW check-in system will display a poster with a Service NSW QR code. 
What you need to know:
you don't need to have the Service NSW app installed on your mobile phone to use the QR system
the check-in process will be slightly different if you have the Service NSW app installed
you don't need to have a MyService NSW account to use the system
if that doesn't work for you, you can ask the business to manually collect your details.
---
Using the Service NSW app for COVID Safe check-in
Hospitality venues (pubs, clubs, cafes and restaurants) and hairdressers are required to use the Service NSW check-in system. Other types of businesses can also choose to use this system.
The Service NSW check-in system uses QR codes. If your phone can't read QR codes, or you're otherwise unable to access the Service NSW system, the business must record your contact details by an alternative method.
Learn more
---
Using a QR code for check-in
Having a smart phone that can read QR codes can be a convenient check-in option.
If you've never used a QR code before, check out our first time QR code user guide.
Different phone models have different ways of scanning QR codes. You may need to enable a setting, or even download a QR code reader app. 
Try the practice QR code in our guide to the Service NSW check-in system.
If your phone can't read the QR code, the venue must provide an alternative method of recording your contact details.
---
No phone? No problem
If you don't have a phone, or you're unable to use yours for some reason, the venue can record your details on their own electronic system. 
If there is no way to record your details electronically, such as if the internet is not available, the venue can still record your contact details on paper. They must transfer the details to an electronic system as soon as possible.
Venues must delete all records (electronic and paper) after 28 days if not required for contact tracing.
Business owners can find out more about their record keeping obligations.
---
Check out
If you have checked in using the Service NSW app, you can check out at the end of your visit.
Checking out at the end of your visit can help improve the accuracy of contact tracing.
It's not mandatory to check out.
To check out:
open the Service NSW app
go to COVID Safe Check-in
tap the Last Check-in tab
tap the Check out button.
---
Catch a taxi and check in with the Service NSW app
For the safety of drivers and passengers, there will be a QR Code sticker located inside Premier Cabs, Legion Cabs, GM Cabs and some regional operators. 
Taxi passengers are strongly encouraged to scan the QR Code for contactless check-in to help manage the spread of COVID-19. Alternatively, if you do not have a phone to scan the QR Code, you can make a booking with the taxi company which will capture your details required for contact tracing.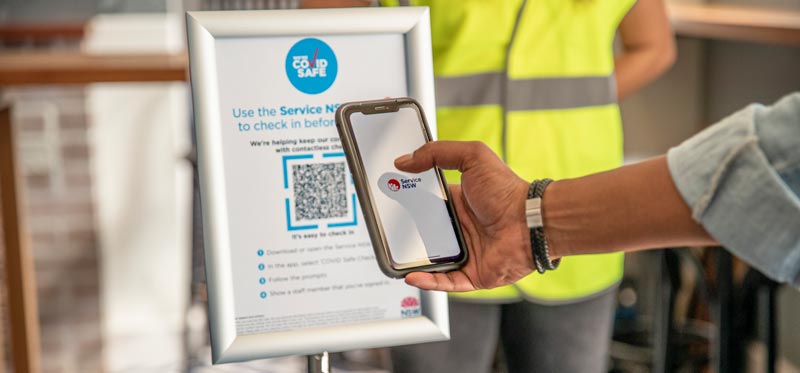 Privacy and your personal information
Businesses are required to take your details only for the use of contact tracing for COVID-19 infections. If the business is going to use your details for marketing purposes (such as sending you emails) they must inform you clearly and obtain your consent.
---